Liquid Roofing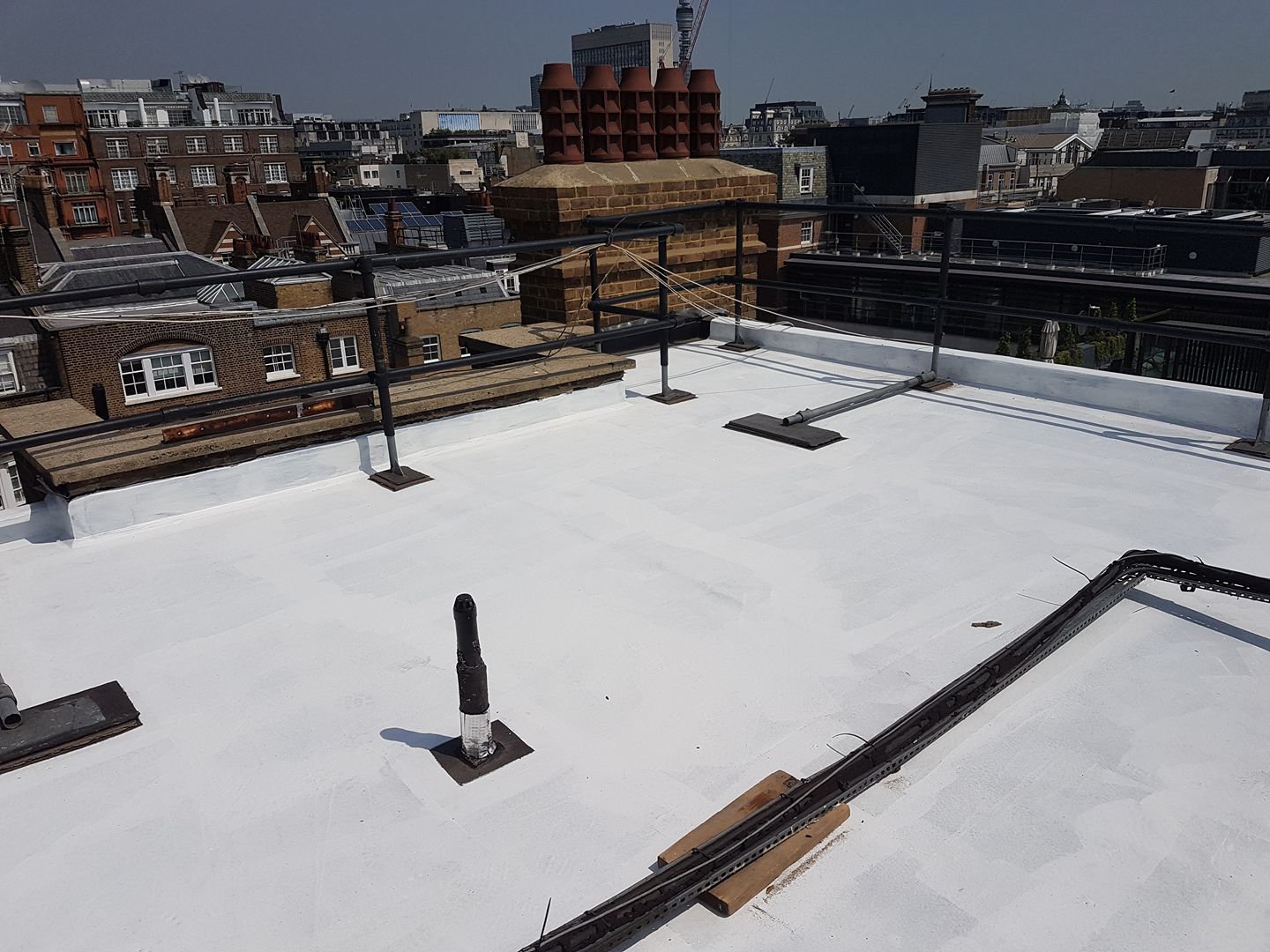 We provide a full range of liquid roofing services. This includes new liquid roofs, liquid overlays and liquid roof repairs. We cover all types of liquid roofing systems such as GRP, Asphalt, Liquid Rubber and Liquid Plastic. Our highly-experienced team covers all of London with our London roofing team and the South of England with out Southern team. All members of both of these teams are fully accredited liquid roofing specialists.
If you would like a quotation or any information about liquid roofing please get in touch with us or call us now on 01277 375 511.
The Advantages of Liquid Roofing
• A cold applied system. This means no naked flame of heat is used on the roof during the installation process. This is both convenient and beneficial to health and safety.
• Can be applied all year round. Liquid Roofing Systems can be installed at any time of the year if the temperature is above 0 degrees. This makes a liquid roofing system an excellent choice for projects which will be undertaken in winter months.
• Liquid Roofing is Cost Effective. Due to the durability of a liquid system and it being easy to repair, liquid roofing is one of the most cost effective roofing options when you consider the cost per year of service. Depending on the purpose of the liquid roof, the lifetime of a liquid roofing system could be as much as 30 years.
• Easy to Maintain and Repair. As liquid roofing is cold applied repairs can be carried out without any inconvenience to those using the building (obviously, this is a huge advantage with commercial properties). Also, due to being a liquid system the defective area is the only area which will have to be repaired saving the cost of removing large sections of the roof which is the case with some other roofing systems.
• Excellent Elasticity and Tensile Strength. Liquid roofing systems can cope with natural movements of any roof they are applied upon.
• Liquid System are Waterproof on Application. Depending on the system a liquid roof will be waterproof instantly or in the worst case within 2 hours of application. This timeframe can be different in situation which involve abnormal temperatures.
• Ideal for roofs which require complex detailing. Due to it being a liquid roof, even the tightest of spaces and tiniest of detail can be filled. This ability to form perfectly to the area it is applied to makes liquid stand out when compared to other roofing membranes.
• Vapour Permeable. Liquid systems are vapour permeable which means the moisture inside the building which is waterproofed with a liquid roofing system can escape.
Why Choose RJ Evans For Liquid Roofing
Experienced team of fully accredited Liquid Roofing Specialists. We have operatives with more than 40 years' experience.
We provide a range of FREE quotations and solutions for all projects.
Insurance backed guarantees.
Excellent Customer Support throughout project.
Rated 5 out of 5 from our previous customers.
Get In Touch With RJ Evans Today
If you would like a quotation or any information on Liquid Roofing please get in touch with us or call us now on 01277 375 511