Asphalt Roofing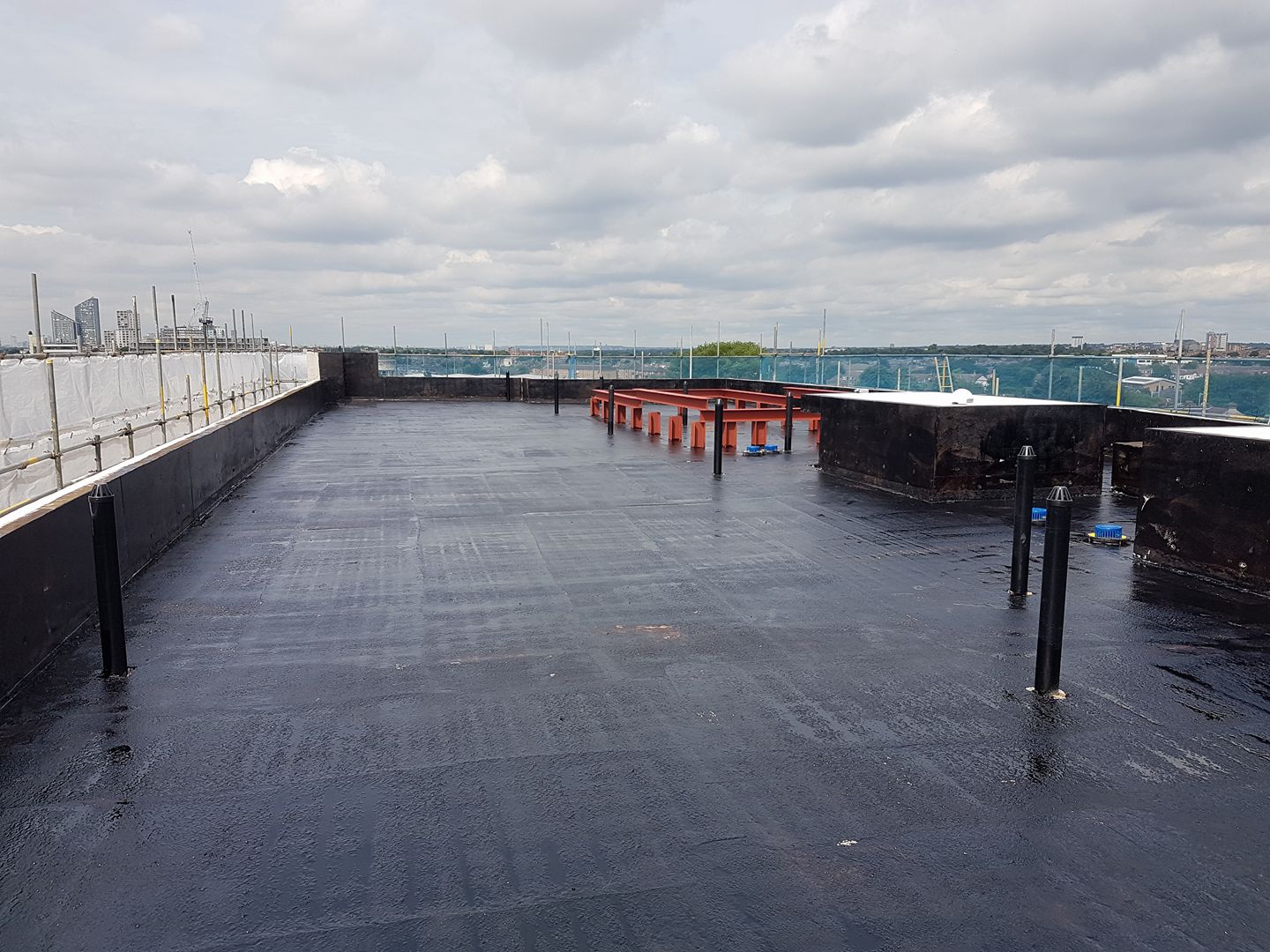 At RJ Evans, we have specialist asphalt roofing contractors and can provide a full range of asphalt roofing services. This ranges from the installation of a new asphalt flat roof to all types of asphalt roof repairs.
Our team of asphalt specialists consists of individuals with more than 40 years' experience. This team have worked on many prestigious asphalt projects across the UK including works at the Tower of London.
Asphalt is a versatile time tested roofing system which can be applied to a range of substrates including metal, concrete and timber.
If you would like a quotation or any information on Asphalt Roofing please get in touch with us or call us now on 01277 375 511.
The Benefits of Mastic Asphalt Roofing
Mastic Asphalt is one of the best waterproofing materials on the market. It is time tested and carbon zero rated. No other waterproofing product can boast a carbon zero rating close to this. This is what makes mastic asphalt so popular for waterproofing. As a waterproofing solution it can be seen across a multitude of surfaces including, asphalt car parks, asphalt flooring, tanking and balconies.
In addition, Mastic Asphalt is a totally recyclable material meaning it is an environmentally friendly choice for a waterproofing system for your roof.
The hot molten liquid of mastic asphalt can be laid to perfectly mould around all manner of tight awkward spaces on a roof such as piping and upstands.
Aggregates can also be added to provide different properties such as extra traction to prevent slipping in wet conditions. And the addition of 30% grit for extra hardness to withstand the demands of a busy car park.
Asphalt spreaders are required to complete a minimum of a 2 year NVQ, this is a far longer period than the week-long courses which are currently available to start working on other roofing systems.
Now with IKO Permascreed, there is no long waiting time for the screed to cure before laying. This isn't the case when sand and cement was used where 7 days curing time would have to pass.
As well as providing a stable base for the mastic asphalt system, Permascreed is also designed to provide drainage falls.
The can be left without rainwater ingression into the system. And there is no need for core venting to draw out trapped water which is the case when other screeds are used.
Solar Reflective Paint for Asphalt Roofs
Solar reflective paint is always specified for asphalt roofing. This disperses heat from the roof and provides a decorative finish to the roofing system. In the picture below of the asphalt roof installation we carried out. You can see the light grey colour of the UV solar reflective paint which was applied to the mastic asphalt at the end of the project.
Asphalt Roofing London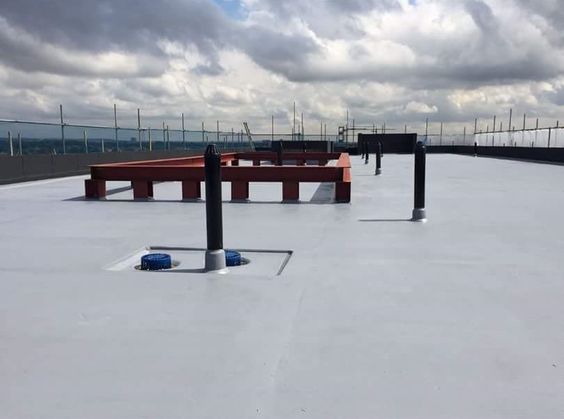 Frequently Asked Questions about Asphalt Roofing
Is an Asphalt Roof Good?
An asphalt roof is good for anyone who wants a seamless, carbon zero rated roofing system which has stood for test of time. Mastic asphalt roofs have proven themselves as the 'King of Waterproofing' over many decades.
What is Mastic Asphalt Roofing?
Mastic asphalt roofing is the use of mastic asphalt to waterproof a roof. Asphalt roofing is environmentally friendly and leaves a roof with an aesthetically pleasing seamless finish.
How Many Years Does an Asphalt Roof Last?
An asphalt roof can last in excess of 50 years if it is maintained properly and installed by skilled craftsmen. Of course the lifetime of an asphalt roof will differ from roof to roof depending on the stress put upon it.
Why is Mastic Asphalt Used on Flat Roofs?
Mastic asphalt is used on flat roofs as it has excellent waterproofing properties, is extremely durable and is environmentally friendly.
Why Choose RJ Evans as your Asphalt Roofing Contractors
• We have our own Asphalt Mixer this means a flame free laying of the mastic asphalt. Better consistency in the asphalt mixture meaning a more efficient installation process with a better overall finish.
• Vastly experienced asphalt team. We have operatives with more than 40 years' experience.
• We provide a range of FREE quotations and solutions for all projects.
• Insurance backed Guarantees.
• Excellent Customer Support throughout project.
• Rated 5 out of 5 from our previous customers.
Get in Touch with RJ Evans Today
If you would like RJ Evans to provide a quotation or providing any information relating to an asphalt roof please get in touch with us or call us now on 01277 375 511.
An Asphalt Roofing Survey carried out by RJ Evans