Does Buildings Insurance Cover Roof Repairs?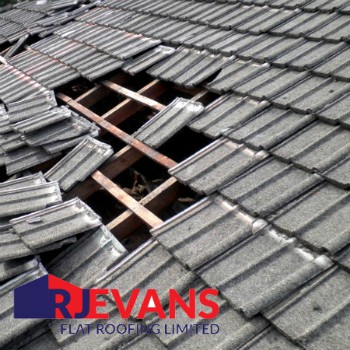 Buildings insurance may cover you for roof repairs. Whether you are covered by buildings insurance for roof repairs will be dependent upon the cause of the damage. Below we have assembled some things to consider before you make a roof repair insurance claim.
It is imperative to repair your roof as soon as possible. This will do three things:
1) Minimise the cost of the repair and the damage done to your property.
2) Maximise the safety of yourself, your family and others.
3) Reduce the amount of disruption to your daily life (especially if some parts of your property are unusable due to the damage to your roof).
Despite this it is best to know the following information before conducting any repair work no matter how stressed you are. In some cases, you will be able to make a claim against your buildings insurance for the cost of your roof repair. Below we go through the things to do before making a claim.
a) Identify the amount of coverage provided for roof repairs in your buildings insurance policy.
b) Identify whether your insurance company will cover the cost of providing a new roof.
c) Provide your insurance company with an estimate for the required repair work.
d) Understand how insurance companies appraise a roof repair claim.
The Amount of Roof Repair Coverage in your Insurance Policy
In most cases, there will only be part cover in your buildings insurance policy for roof repairs. The situations in which complete roof repairs may be covered are if you have a specific cause of roof damage written into your policy. This would be something like full roof repair coverage in the event of a storm. You also may be eligible for full coverage if your roof was brand new or in excellent condition before the damage occurred (this will have to be proven).
Would your Insurer be Willing to Cover the Cost of Installing a New roof?
Even if you have full repair coverage in your buildings insurance policy, to claim for the cost a new roof or a full roof replacement from your insurance company you will need to prove to them this is necessary.
This means to show your insurer the damage your roof has sustained is so severe the most cost effective way to put your roof back in order is by the installation of a new roof or a full roof replacement.
Provide your Insurer with an Estimate for the Necessary Repairs
Before you file your claim against your buildings insurance policy you will need to get an estimate to repair your roof from a professional roofing contractor. It is helpful if the roofing contractor you contact can also provide you with a full report and thermal imaging surveys if necessary. This will add to the strength of your claim and help justify the costs required to repair your roof.
We can provide both detailed reports and thermal imaging surveys when required for all types of building insurance claims. The price to call us out for an estimate and report start from £300.00+VAT if you are within a 20-mile radius of our head office (CM15 9RP) and from £450.00+VAT if you are within a 50-miles radius. To get in touch call us on 01277 260 204 or email us estimates@rjevansroofing.com.
How Insurance Companies Appraise a Roof Repair Claim
Before deciding whether to pay out for your claim against your building insurance your insurer will assess your claims validity.
1) Cause of Damage
The most important aspect of this process is the cause of the damage to your roof. If the damage is because of general wear and tear your claim will be rejected.
But if the damage was caused by an unexpected event your claim could be a valid one. The events you are covered for will vary from policy to policy. If you have suffered from an unexpected fire, storm damage or vandalism it is worthwhile to check with your insurance company if you are covered.
*When you take out a buildings insurance policy it is imperative to know in what circumstance your roof is covered. This small detail can save you thousands of pounds if something misfortunate happens to your roof.
If you have verified with your insurance company your buildings insurance policy1 does cover you for the damage your roof has incurred. The next thing they will consider your repair claim against is the age of your roof.
2) The Age of your Roof
Your roof's age will be a key factor in your insurance company determining the extent of the damage your roof has incurred. An older roof will be viewed as having endured a lower degree of damage when compared to a new roof. Any roof under 10 years old will be considered as a relatively new roof.
The way the damage is calculated is by analysing the gap between the expected roof condition for its age and the condition the damaged roof is currently in. In general a newer roof will receive a higher amount of insurance coverage.
3) Your Roof's Condition Before any Damage was Received
Just like newer roofs above, roofs in better condition will receive a higher amount of insurance coverage2. This is where it becomes especially important to document everything about your roof since you have been in your property. It is a good idea to keep a folder containing details of any maintenance and works carried out on your roof.
For this reason, it is extremely beneficial to get an annual roof survey and bi-yearly roof sweepings. Not only does this keep your roof in optimum condition. It also provides a paper trail documenting your roof's condition over time. This paper trail is especially useful when you need to make a claim and prove your roof is in good condition.
Need Assistance with a Building Insurance Claim for Roof Repairs
If you require any assistance with a claim for roof repair and are within 50 miles of our Brentwood, Essex headquarters please get in touch and one of our team will be delighted to help. You can call us on 01277 260 204 or email us estimates@rjevansroofing.com. We have a wealth of experience and can provide repair estimates and reports (this includes reports using state of the art thermal imaging technology).