Asphalt Roof Repairs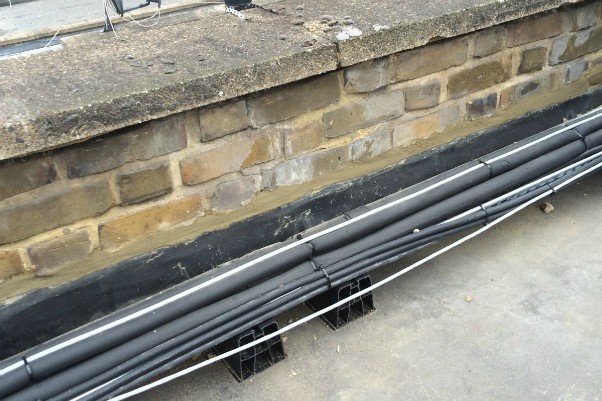 We provide a full range of asphalt roof repairs. This includes minor asphalt repair work all the way up to large scale asphalt roof repair work. Our highly-experienced asphalt roof repair team covers all of London and the South of England, and are fully accredited asphalt roofing specialists.
If you would like a quotation or any information about our asphalt roof repair service please get in touch with us or call us now on 01277 375 511.
Asphalt Roof Repairs Normally Consist of Minor Repairs and a New Coating of Solar Reflective Paint
Asphalt is an amazing roofing material as if it does ever suffer from any damage it can easily be repaired. This make an asphalt roofing system very hard to compete with when it comes to longevity. An asphalt roof is which is maintained every 3 to 5 years will survive way past any guarantees which have been issued
Normally when it comes to asphalt roof repairs all that is needed is a few small repairs and a new coating of solar reflective paint.
An experience asphalt spreader will easily find and rectify any necessary repair work. The seamless smooth finish of an asphalt roof ensures any problems are immediately visible and dealt with without fuss.
In situations where an asphalt roof is coming to the end of its lifespan an experienced asphalter would immediately recognise this and offer advice on the most cost effective remedy to the situation.
Typical Reasons to Need Asphalt Roof Repair Work
• Blistering. Mastic asphalt blisters will be easy to spot with the naked eye. There can be just a single occurrence of blistering or it could be prevalent through the roof. They will look an unnatural part of your asphalt roofing. They will be raised above the flat surface of your roof and look like small bumps but have their tops cracked or split open. The reason blistering occurs is when moisture gets trapped underneath the surface of the asphalt. Blistering is something which occurs in the latter stages of a defecting asphalt roofing system.
• Bumps. Bumps in your asphalt roofing is a defect one stage before blistering occurs. It is the same in every aspect apart from the tops of the bumps are yet to crack or split open. If left without asphalt repair work the bumps will deteriorate further and evolve into blistering.
• Splits and Cracks. This defect can be caused by thermal movement in the substrate, impact damage or much like blistering and bumps trapped moisture. The problem with this defect is when rainwater seeps into the split or crack. In colder temperatures, this problem is even worse as the rainwater can turn to ice and cause the split or crack to increase in size.
Why Choose RJ Evans For Asphalt Roof Repairs
• We have our own Asphalt Mixer this means a flame free laying of the mastic asphalt. Better consistency in the asphalt mixture meaning a more efficient installation process with a better overall finish.
• Vastly experienced asphalt team. We have operatives with more than 40 years' experience.
• We provide a range of FREE quotations and solutions for all projects.
• Insurance backed Guarantees.
• Excellent Customer Support throughout project.
• Rated 5 out of 5 from our previous customers.
Get In Touch With RJ Evans Today
If you would like a quotation or any information on Asphalt Roof Repairs please get in touch with us or call us now on 01277 375 511.